Get Your Tree in Shape.
Learn more about pruning.
Call: 415-459-4399
---
"They removed the branch without the need to call PG&E and have the power turned off...The crew cleaned up the yard and left it the way it looked before the branch fell. These guys are great!"
Tree Pruning
For a younger tree, pruning is essential for its development and form; for a mature tree much less so. But young or mature, a tree properly pruned can transform a property, add excitement to any Marin County home or support a healthy outdoor environment.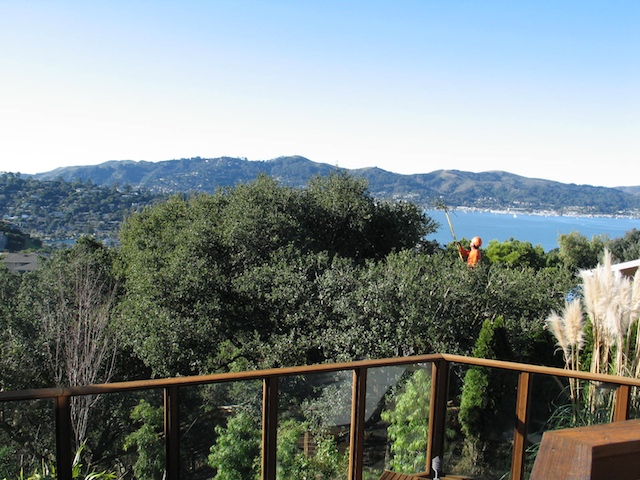 Artistry in Trees offers a variety of pruning options:

• Structural pruning – to develop properly balanced branch growth on the main trunk and scaffolding branches and encourage interior branch growth
• Crown reduction and shaping – to reduce overall size by drop crotch pruning while striving for best possible shape
• End-weight removal – to reduce weight on long, end-heavy branches
• Crown cleaning – to remove unsightly branches and dead wood
• Tree Thinning – to remove branches for increased air movement and light penetration
• View Enhancement – to enhance a scenic view, perhaps the bay, a mountain or the ocean
• Reducing and shaping - to prune established hedges for aesthetic beauty and overall health

How much to prune? It can depend on several factors: a tree's size, its age, the species and the results you want to achieve. Proper pruning can energize a tree, giving it the structure it needs to sustain good health.

Pruning Technique: Young vs. Mature Trees
Tree pruning practices for young versus older trees often differ. Younger trees are more vulnerable to the damage caused by haphazard or careless tree cutting practices. Well maintained older trees typically need less trimming.
View Photo Gallery
Tree Planting
Trees need proper nourishment and care to thrive. But with proper site preparation, drainage and care, Artistry In Trees can minimize concerns and give your tree a healthy start.

Tree Planting for Optimal Health
Artistry In Trees sets up the ideal conditions to maintain a healthy tree. For instance, when planting, we dig holes to the right size, ensure the planting holes drain properly, establish suitable tree height and depth, and provide the all-so-important initial pruning so a tree will thrive.
Fertilization
We keep two locally produced formulas in stock. Their use depends on the needs of your trees and plants. One formula promotes a greener, more robust canopy; the other treatment helps to build up the root system.
Tree Removal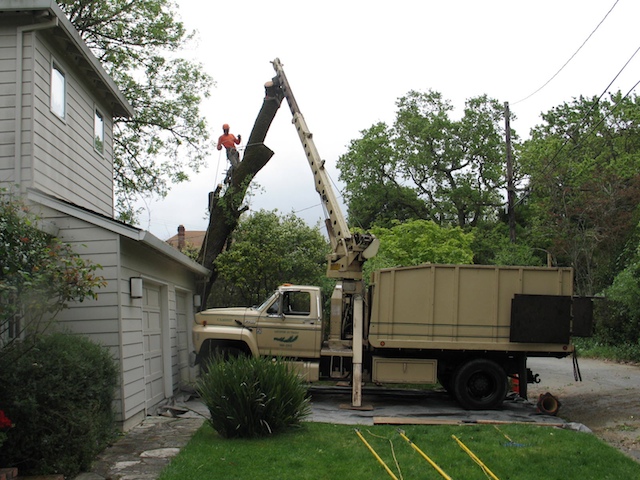 Trees express an inherent dignity. They astound with their breathtaking size and shape and luminous color. But tree removal is often necessary to reduce overcrowding, eliminate hazardous conditions, or improve aesthetics, among other reasons.
View Photo Gallery
Emergency Tree Service
Our crew responds rapidly during an emergency in Marin County. We work hard to prevent any potential threat to your property. Severe weather conditions can result in felled trees. During a crisis, your personal safety and the welfare of your home are our top priorities.
View Photo Gallery
Crane Service
Our crane service makes tree removal faster, more efficient and promotes safety. Our entire crew is well trained and the greatest care goes into completing a job efficiently
Resolving Tree Issues
Artistry In Trees helps resolve tree disputes, such as issues related to views, fences, and boundary lines, to achieve an outcome beneficial to all parties. Resolving differences helps support positive working relationship between neighbors.
Stump removal
You may have "inherited" a stump after buying a home or "created" one after a tree has been removed. In either circumstance, stump grinding is recommended. Termites and other insects can take up residence in stumps. A tree remnant also reduces curb appeal.